Over the last few years, warehouse operators have faced a number of new and unprecedented challenges: The global pandemic, the acceleration of e-commerce, labor shortages, energy price hikes, inflation, and the rising cost of capital limiting business expansion. Now, another one has been added to the plates of Los Angeles, Orange County, and Inland Empire warehouse operators: Rule 2305.
What is Rule 2305? 
The Rule 2305 is a new imposed fee for warehouse owners and operators with locations in Los Angeles County, Orange County, and the Inland Empire. This fee is determined and applied by the amount of trucking transportation coming to and from the facility. The overall goal of the South Coast Air Quality Management District (South Coast AQMD) is to reduce carbon emission and improve air quality targets by disincentivizing truck traffic through imposing new fees based on the volume of truck traffic taking place around the warehouse. 
How will Rule 2305 impact Southern California warehouse owners and operators?
Rule 2305 will impact warehouse owners and operators with industrial real estate and/or warehouses over 100,000 sq. ft. and operating on at least 50,000 square feet will have. The imposed rule includes a fee that will be rolled out in three phases over the course of three years starting in 2022.
Phase
Warehouse Size (sq. ft.)
Initial Reporting Date 

(Annual WAIRE Report)

Initial Compliance Period

1

≥ 250,000

January 31, 2023

Jan. 1, 2022 – Dec. 31, 2022

2

≥ 150,000–<250,000

January 31, 2024

Jan. 1, 2023 – Dec. 31, 2023

3

≥ 100,000–<150,000

January 31, 2025

Jan. 1, 2024 – Dec. 31, 2024
The cost implications of Rule 2305
WarehouseQuote performed a cost analysis below to provide clarity on the potential cost implications of Rule 2305. In this hypothetical, we estimated 100 inbounds and 140 outbounds per week, totaling 240 truck trips in/out of that facility each week and 12,480 annually. Based on this calculation, the warehouse's total mitigation fee would be $25,740 for year 1, or $156,000 over the course of the first three years. Please see the appendix for a full summary of the data.
How to mitigate the costs associated with Rule 2305
The costs associated with Rule 2305 can quickly accumulate depending on the size of the warehouse and the annual transportation traffic. However, there are several opportunities to mitigate these fees. A few include installing solar panels, vehicle charging stations, zero emissions trucks, and upgrading to more efficient HVAC systems. A full list of ways to earn points can be found in the WAIRE Menu. 
For example, the scenario above would require 224 class 8 near-zero emission truck trips to reach the 25.7 WAIRE Points needed in year one. Or, they may choose to do a combination of WAIRE activities such as near-zero emission trucks and installing solar panels. If they were to fall short of their 25.7 required Points, they would need to pay for the remaining costs.
Conclusion
Today, warehouse owners and operators are essential to the United States economy and flow of commerce. But, the number of challenges on the plates of warehouse operators are growing. It is likely the Rule 2305 will impact both the cost of third-party warehousing services while potentially deterring the amount of new capacity entering those markets. WarehouseQuote will be monitoring the impact of Rule 2305 on Los Angeles warehouse operators and the flow of commerce over time. Please reach out to the WarehouseQuote team for any questions regarding the Rule 2305.
Appendix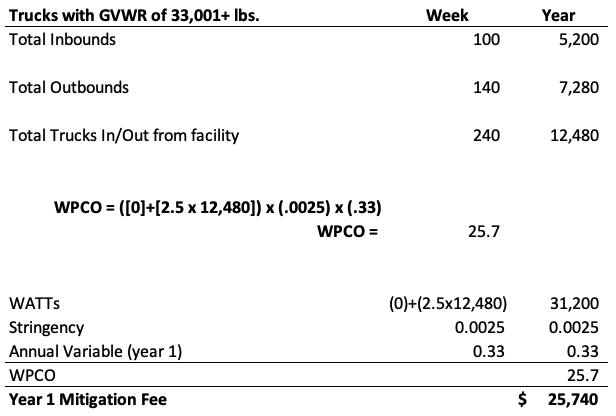 Year 1: 
Annual Variable = 0.33
Year 1 Total Mitigation Fee = $25,740
Year 2: 
Annual Variable = 0.67
Year 2 Mitigation Fee = $52,260
Year 1 & Year 2 Combined Mitigation Fees = $78,000
Year 3:
Annual Variable = 1.0
Year 3 Mitigation Fee = $78,000
Year 1, 2 & 3 Combined Mitigation Fees = $156,000
Explanation of terms
Warehouse Actions and Investments to Reduce Emissions (WAIRE)
WAIRE is a program that aims to reduce emissions associated with warehouses to improve overall air quality. WAIRE Points can be earned by completing certain emission reducing actions.
WAIRE Points Compliance Obligation (WPCO)
WPCO is the number of points a warehouse must generate to mitigate emissions related to transportation in and out of their facility.