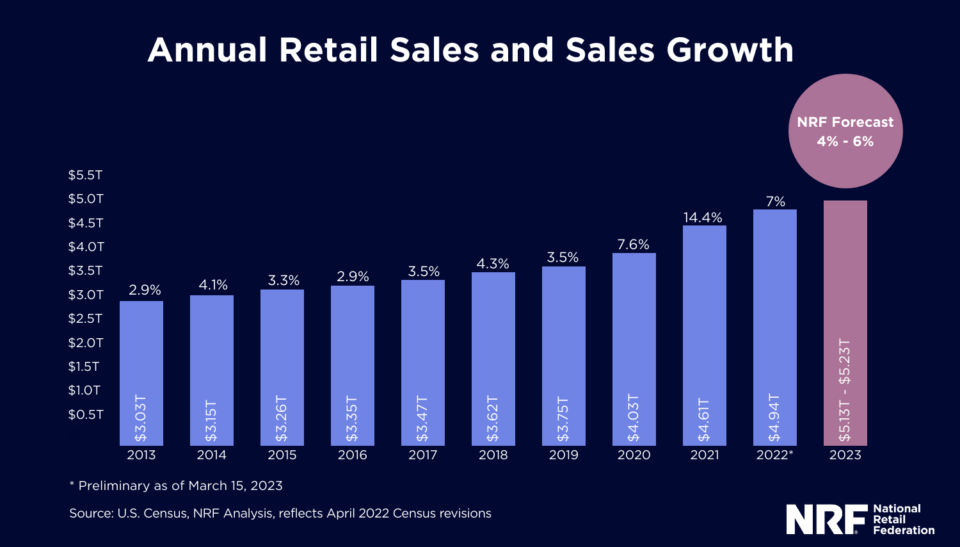 In late March, the National Retail Federation released their retail sales forecast at the State of Retail and the Consumer event. In this article, we highlight the key takeaways and what it means for middle market and enterprise brands.
NRF forecasts moderate retail sales growth in 2023
The National Retail Federation 2023 forecast anticipates moderate retail sales growth between 4 and 6 percent. This year follows three-consecutive years of strong retail sales growth but is still expected to outpace the pre-pandemic period.
Online sales are expected to grow over 10 percent
Non-store and online sales are expected to grow between 10 and 12 percent per the National Retail Federation forecast. Yet, brick and mortar stores remain the main point of purchase for consumers accounting for 70 percent of retails sales. 
The future of retail is omnichannel
Middle market and enterprise firms must prioritize developing omnichannel sales experiences to meet today's consumer expectations. With WarehouseQuote, middle market and enterprise businesses can design efficient B2B and B2C fulfillment networks connected by a single technology platform.